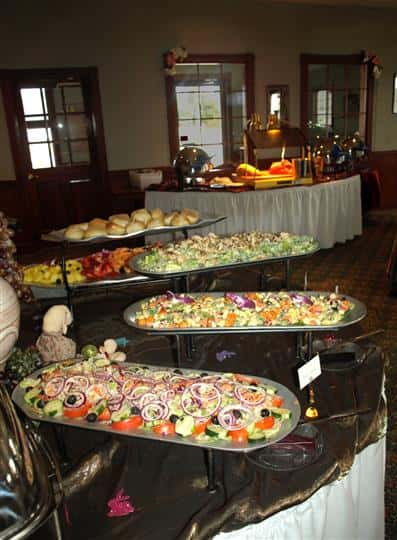 ~~Specials~~
~~ Call after 4PM for our Daily Specials!!! ~~
Thanksgiving Holiday Menu
ENTRÉES
Roast Turkey
"With our Chef's delicious stuffing and giblet gravy"………………………………………………………..18.99
*All white or All Dark Add $1.00
Baked Stuffed Jumbo Shrimp
"Baked in our own Homemade stuffing" ……………………………………………………..……………….…..… ..… 21.99
Roast Prime Rib of Beef "Served with Au Jus" ……………………….………………………………..…… …24.99

Deep Fried Bay Scallops "Served with tartar sauce"………….…………….….………….……….….…. 18.99
Deep Fried Fisherman's Feast
"haddock, sea scallops, whole clams and one jumbo shrimp" ……………………………..…………..…………….…. 23.99
King Phillip's 14 oz. Sirloin "Charbroiled to perfection"…………………………....……… …….…….24.99

Rack of Lamb "Served with mint jelly"………………………….………………………………..…….…………......... .......25.99
Parmesan Haddock
"Encrusted with our homemade Parmesan cheese recipe"…….…………………………….…..20.99
Swiss Chicken
"Fried Chicken breast topped with Swiss cheese and a creamy sauce"……….…….………....18.99
Fresh 1 ¼lb Lobster "Served with drawn butter"……………..…………………………….………………………22.99
Baked 1 ½ Stuffed Lobster "With shrimp, scallops and Newburg sauce" …………..…..….25.99
All Dinners served with Clam Chowder or Fruit Cup, Salad, Rolls,
Mashed and Sweet Potato, Vegetable and choice of Dessert.
Children's Dinner Menu
(For our guests 10 years of age or younger)
Roast Turkey 12.99 Baked Stuffed Shrimp 13.99
Prime Rib of Beef 14.99 Chicken Fingers 11.99
DESSERTS
Pies
Peanut Butter Silk, Chocolate Cream, Lemon Meringue,
Mincemeat, Apple, Fruit of the forest, Pumpkin
Ice Cream Assorted Flavors, Indian Pudding with Ice Cream
King Phillip Restaurant Thanksgiving Buffet
A True Holiday Feast
Served from 11:00am-4:00pm
· Chicken Caesar Salad
· Garden Salad
· Greek Salad
· Baked Stuffed Haddock
· Shrimp & Broccoli Alfredo
· Fried Bay Scallops
· Fresh Fruit Salad
· Roast Turkey & Gravy
· Home Made Pork Sausage Stuffing
· Mashed Potatoes
· Sweet Potato
· Green Bean Casserole
· Country Style Meatloaf
· Vegetable Lasagna
· Butternut Squash
CARVING STATON
· English Cut Roast Beef
· West Virginia Ham
Monday & Tuesday are our Super Specials days! Stop on by between 4 & 9PM and choose from a variety of phenomenally priced dinner specials! Our regular menu and daily specials are also available.

CRAIG'S CATERING FOR ALL OCCASIONS!
Weddings, Family Parties, Reunions, Celebration of Life, Corporate or any other function.
Let us do the work for you!
We'll help you design the menu, and will do catering on OR off-site!
We can do parties of any size, and also offer "Drop-&-Go" service!
WEDNESDAY NIGHT BUFFET! 5-8PM
5 dinner entrees and 2 appetizers
ALL YOU CAN EAT FOR $15.99!

THURSDAY IS OUR FAMOUS PRIME RIB NIGHT!
PRIME RIB DINNER FOR $16.99!
The Best Brunch In The Area! Our Famous Sunday Brunch Buffet! 10AM-2PM

Breakfast & Dinner Options w/ Carving Station & Dessert Station - $15.99!!! (Items Change Weekly)